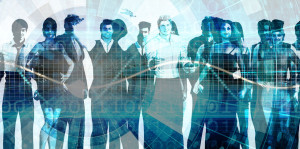 The top challenge for service executives in 2021? Workforce and talent shortages. According to research by Service Council, filling the workforce positions, along with a lack of resources, will be foremost challenges this year.
More and more, the study found Service Council members have been moving toward a blended workforce of both direct employees and independent contractors. How can that strategy be implemented while ensuring contractors are well-trained and thoroughly vetted? Augmenting an existing direct field technician workforce with well qualified and trained contractors is a way to meet those challenges.
Additionally, the Service Council 2021 Voice of the Field Service Engineer (VoFSE) survey shows that more than 70% of technicians believe:
Today's products are more complex, requiring more knowledge and technical expertise to service those products.
Customer and management demands are greater.
They are required to travel more
The survey concludes that working with a service workforce incorporating independent contractors can help businesses overcome these challenges. This is because:
Contractors can handle predictable tasks, such as inspections, routine preventive maintenance, moves, adds and changes, allowing the direct workforce time to focus on other roles.
An augmented workforce can ease the pressures on the direct workforce, permitting them to spend more quality time working with customers.
It may strengthen technicians' abilities to follow company and management-imposed processes and reporting requirements by freeing sufficient time for the techs to adhere to those requirements and easing management pressure.
Using local contractors to service equipment in remote areas lessens necessary travel for field engineers.
The 2021 VoFSE survey also uncovers what field engineers like most with their jobs:
They like solving customer problems.
They enjoy fixing and repairing things.
They like meeting and interacting with customers.
Utilizing an augmented workforce on routine tasks frees the direct field force to concentrate on what they enjoy most, as well as strengthening customer relationships.
Well-qualified, well-trained, and carefully vetted contractors can help provide Technician Agnostic Service: service delivery that is consistent, reliable, and thorough.
AVASO Technology Solutions has the resources to help you meet those needs. With services in more than 150 countries, we are able to supply augmented workforce personnel on site wherever it is needed. We have eliminated the many, many layers of vendors to ensure the most direct line to quality employees. Our reach is scalable, global and can support both a short-term project and a long-term placement on budget and with unparalleled speed.
Let us show how we can supply the workforce services needed to succeed in 2021 and beyond.